100% oil-free
Vibration-free
Low Noise Level
Compact Size, the installation can be finished in a very short time.
Easy access facilities maintenance
Easy inspection machine parts
Simply removing the gear cover can check all moving parts. The main component parts like bull gear, pinion gear, shaft seal, bearings, etc. can be inspected easily and in short time. There is no need for removal other parts like air and water piping etc.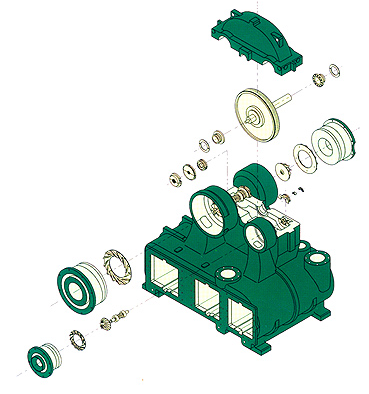 IHI-SULLAIR turbo-compressor has been designed to be maintenance¨Cfree, with a minimum of replace parts, making it the most dependable compressor on the market

Cooler
Cooler tube bundles are easily accessible without disturbing any other components. Straight-through heat-exchanger tubes with external fins can be maintained at high efficiency by fast (by rodding).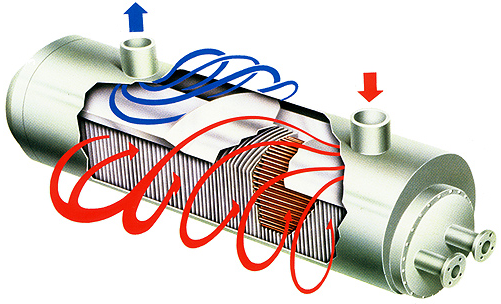 Safe, trouble-free, continuous operation
Free of wearable parts, and supported by a rugged construction. In addition, the capacities of suction filters, designed just large enough so as to allow for inspection and cleaning at long intervals, also act to safe, trouble-free, continuous operation.
Separate arrangement of mechanical unit, and heat exchanges allows for maximum maintenance easy despite a package-type design.
IHI-Sullair turbo-compressors prove to be most economical when judged comprehensively from ancillary equipment requirements, construction costs for foundation and housing, environmental preservation costs, operating costs, maintenance costs, and other costs.
Increasing operational capabilities.
1). Operating condition: All data can be checked on the display.
2). Simple and easy operation
   Utilizing touch panel screen, all pertinent operating data can be easily accessed by the operator.
3). Indicate the set values for trouble. Indicate causes of trouble and possible countermeasure.
4). Diagnose: Indicates at what time the suction filter, compressor lube oil and motor lubricant should be maintained.
5). Recall Data: This data provides a review of all relevant compressors operating datum monitored at shutdown.

Comprehensive AI control system

The AI control system allows the compressors to monitor any changes in suction air temperature or variations in air demand, and automatically operate at maximum efficiency. Even at very low atmospheric temperatures, the unit maintains the required oil temperature, allowing for easy starting. The turbo compressor is equipped with automatic safeguard devices designed to ensure continuous, stable operation.
Special coating (Nickel+Hard Chrome) on the surface of inlet is applied for better durability and minimizing the deterioration of efficiency even under the severe operation conditions.
Satisfying service