IHI-Sullair successed in assembling & testing the large size gear type centrifugal compressor, f53A4, which used for air separation progress in an electronics plant in Nanjing.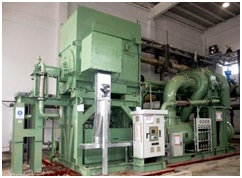 f53A4 large size centrifugal compressor use 3rd stage compression with intercooler. The customer design ensured high efficiency. Meanwhile, the whole set performance can fully meet the requirement of air separation company with high performance driving motor.
The compressor set has wide constant pressure turn down range & safe anti-surge with inlet guide vane monitor & accurate flow control anti-surge design
f53 series is fit for air material machine, nitrogen compressor & oxygen compressor used for air separation. It can also be used as booster with medium of air, nitrogen & oxygen.
IHI-Sullair is professional in producing f-series large size compressor. There are hundreds of large size compressors produced by IHI-Sullair running all over the world.